OUR PRODUCTS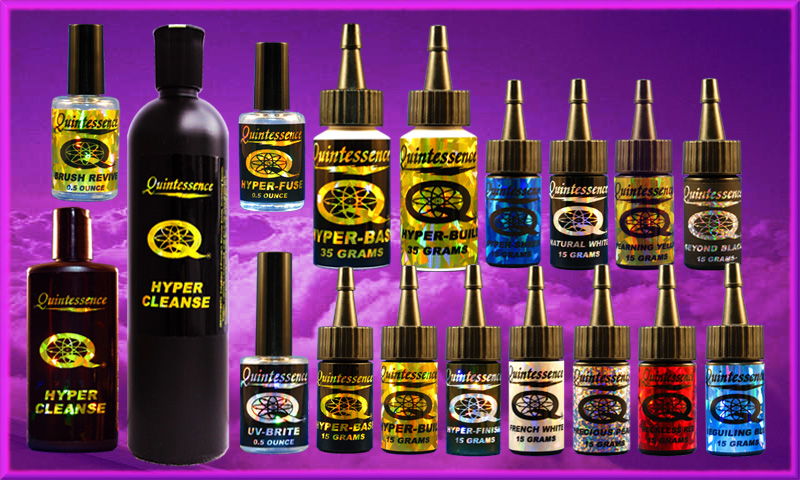 Brush Revive, Hyper-Cleanse (16 0z), Hyper-Fuse, Hyper-Base (35 gm), Hyper-Build (35 gm.), Hyper-Sheer, Natural White, Yearning Yellow, Beyond Black, Hyper-Cleanse (4 oz), UV Brite, Hyper-Base (15 gm), Hyper-Build (15 gm.), Hyper-Finish, French White, Precious Pearl, Reckless Red, Beguiling Blue.
Following are a few of the benefits our new hybrid organic nail gels offer:

Our new generation Gel Nails formulas exhibit a full glass like surface cure in 1 minute, under one 6-watt UV bulb. Our competitor's Gel Nail products leave a dispersion film that must be wiped off the nail after curing. We have found that the above mentioned dispersion film is the primary cause for many allergic reactions. These other gel nail products also require a 3-5 minute cure times under as many as four 9-watt bulbs. These multi-bulb UV nail gel lamps are very expensive to produce and manufacture.

Quintessence High Performance Gel Nails are much harder and durable than our competitor's products. When Quintessence Gel Nails are used in conjunction with our Hyper Fuse Protein Primer, our gel nails virtually blow away our competitors products in every qualitative performance category measured.

Quintessence High Performance Gel Nails adhesion process is the most advanced in the industry. We utilize a non-acid, hypoallergenic primer that forms a true specific organic chemical bond to the nail plate. No other company comes close to matching our adhesion and durability performance.

Lastly, our gel nail products, gel nail kits and systems offer complete versatility. Quintessence High Performance Gel Nail Product can be applied using tips or sculpted with forms. We offer a line of surface cure gel nail polish and colors for French manicures and nail art. Quintessence Nail Gel can also be applied over conventional nail polishes, airbrushing or decals.

TOLL FREE ORDERS:
1-877-352-2030